Mark's Leatherwork
This is a page where you can view Marks work in leather.
While I have not had formal training, I have made quite a few bits and pieces and I feel that my skills have improved over the years. And although at the moment I have not used stamps or carving, I have learnt how to polish and finish work to a high standard. I have also started to use metal as part of my armour designs.
The influence for my designs are historical, low fantasy work based on items from the dark ages to the 18th century , and I usually work in brown or tan leather, but I will work in black or other colours if you want it.
He has made the following things in the past ;-
…and anything else you can think of!
Prices start at £60 and are mostly dependant on the leather you need and the buckles etc. Smaller pieces may start a bit less or if you want something bigger - or even with the metal layers it will be more, as will it be if you want something more complex. As the saying goes, "time is money" but I am also open to reasonable trades, just find me and have a chat.
The Image below is an example of the Loch Lommond pose I have worked towards for my character. This comprises of a leather doublet, wool doublet, baldrick, belt, scabbard, sporran, and shield cover.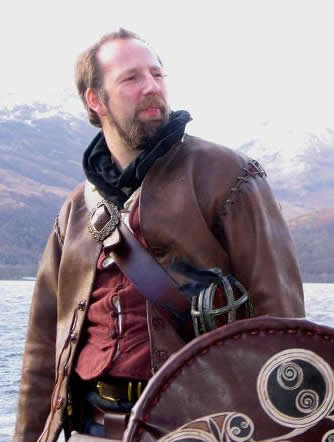 I'm happy to discuss ideas for full character outfits so to get something made, either find me at an event of follow one of the links bellow;
page revision: 11, last edited: 26 Feb 2014 00:10